Rules, Regulations and Real-World Support in the Battle against NSIs
As the proportion of Needlestick Injuries (NSIs) grows with the rate of pandemic vaccinations, so the legislative pressure on Health Care Organisations tightens around the globe.
The 2017 EU Medical Devices Regulation came into full force across Europe in May 2021, stipulating that
"Devices and their manufacturing processes shall be designed in such a way as to eliminate or to reduce as far as possible the risk of infection to patients, users and, where applicable, other persons…(from)…unintended cuts and pricks, such as needle stick injuries".
The European Biosafety Network (set up in response to the 2010 European Directive on Preventing Sharps Injuries in Hospitals and Healthcare Settings) published new guidance in November 2021 recommending the comprehensive use of safety-engineered devices designed to prevent sharps injuries, advising that syringes should be
Practical and easy to use
Designed with an integrated (active or passive) safety mechanism that allows the user's hand(s) to remain behind the needle (one-handed operation is recommended for active operation)
Once in safe mode, the safety feature should resist force to reopen it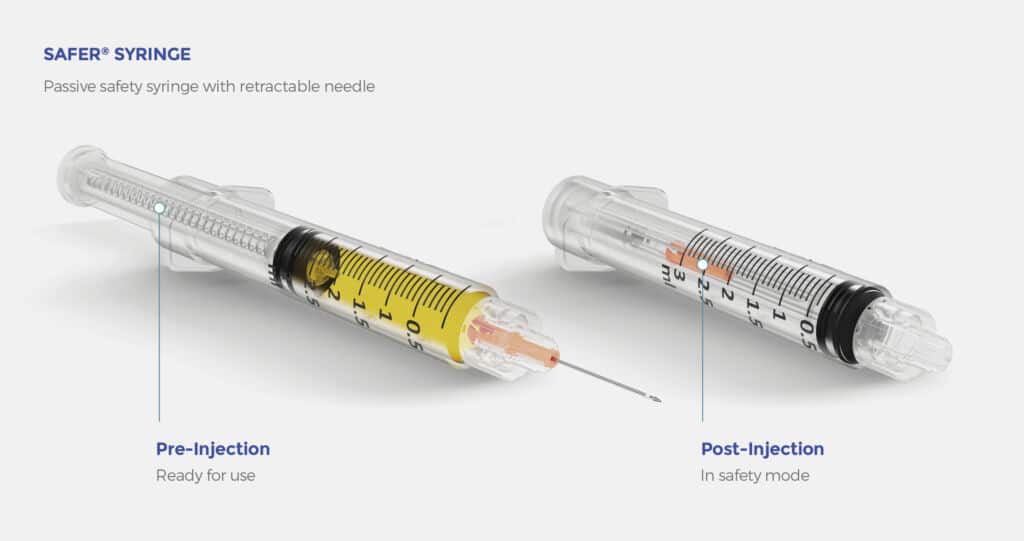 In Britain – no longer, of course, in the EU – the powerful Royal College of Nursing took up the bat following a  study that found pandemic pressures and lack of training led to a 50% rise in needlestick injuries and recommended that HCOs replace all standard devices with semi-auto or auto safety-mechanism devices, where possible.
And in the USA, calls have been growing for greater sharps safety in recent years. The CDC launched the Stop Sticks campaign in 2019, and the International Safety Center prepared a 2020 consensus statement and call to action for organizations to establish "robust surveillance systems to capture information about at-risk occupations, departments, and workplaces.  And as Covid-19 coincided with the 20-year anniversary of the 2001 Occupational Safety and Health Administration (OSHA) Bloodborne Pathogens Standard, a continuing high incidence of NSIs gave rise to a 2021 paper published in "New Solutions: A Journal of Environmental and Occupational Health Policy," recommending widespread training programs and the "procurement of safer medical devices including those with sharps injury prevention features.
While the willingness of HCOs to remain compliant is beyond doubt, all the above highlights the practical difficulties they face – not least the cost and training implications.
But this is where organizations like Roncadelle can add value. We've made it our mission to develop solutions that create safer care for patients and healthcare professionals – brilliantly simple solutions like the SafeR syringe that minimize cost, waste, and the need for training.
As experts in the science behind the science, we also work closely with our customers, colleagues, and business partners, listening to their needs to ensure their solutions are actionable and valuable in the real world. Because, in a world where advice and regulation are not in short supply, what everyone in the healthcare world needs is this kind of real practical help and support.